A list of the Funny sayings for Christmas cards and phrases. I advise learning these hilarious sayings well, you never know when you might need them! Here is a great collection of witty Funny sayings for Christmas cards that is sure to put a smile on your face.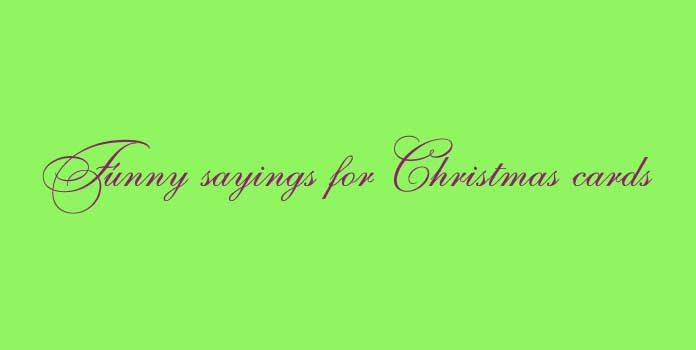 Funny sayings for Christmas cards
"Sending Christmas cards is a good way to let your friends and family know that you think they're worth the price of a stamp." – Melanie White
"My husband's idea of getting the Christmas spirit is to become Scrooge."– Melanie White
"Once again, we come to the Holiday Season, a deeply religious time that each of us observes, in his own way, by going to the mall of his choice." – Dave Barry
"Christmas is a time when everybody wants his past forgotten and his present remembered. What I don't like about office Christmas parties is looking for a job the next day." ~ Phyllis Diller
"Why is Christmas just like a day at the office? You do all the work and the fat guy with the suit gets all the credit." ~ Anonymous
Last year, I asked Santa for the sexiest person ever for Christmas. I woke up in a box.
"Keep your friends close, your enemies closer, and receipts for all major purchases." – Bridger Winegar
"I once bought my kids a set of batteries for Christmas with a note on it saying, toys not included." ~ Bernard Manning
"I haven't taken my Christmas lights down. They look so nice on the pumpkin." – Winston Spear
"Christmas is a time when kids tell Santa what they want and adults pay for it. Deficits are when adults tell the government what they want and their kids pay for it." – Richard Lamm
"One thing I learned from drinking is that if you ever go Christmas caroling, you should go with a group of people. And also go in mid-December." -Louis C.K.
"There are some people who want to throw their arms round you simply because it is Christmas; there are other people who want to strangle you simply because it is Christmas." – Robert Staughton Lynd
"I once bought my kids a set of batteries for Christmas with a note on it saying, toys not included." – Bernard Manning
Some businessmen are saying that this could be the greatest Christmas ever.
I always thought the first one was.
Art Fettig
Remember that the important thing is not what you give, or how you wrap it. The important thing, during this very special time of year, is that you save the receipt.
Dave Barry
Why were there only three kings at Jesus' birth?
Elvis had not yet entered the building.
May your longest list this Christmas be the one that counts your blessings.
Unknown Author
What's the best part of Christmas shopping?
When you know it's a wrap.
Melanie White
Funny sayings for Christmas cards 2
Merry Christmas!
Know what the best thing about this card is?
It doesn't come with a fruitcake!
Don't you just hate the blatant materialism of Christmas?
Aren't you just dying to know what you got?
Melanie White
Need more Christmas cheer? Do what I do: ask Santa to bring you some cheerleaders!
Greg Tamblyn
After-Christmas sales fulfill a vital need.
They give women something to do while men are watching bowl games.
Melanie White
Christmas shopping for your parents is easy.
Just buy them clothes you wouldn't get caught dead in.
Melanie White
When I was a kid I figured out that my parents were Santa. I still have no idea how they made it to all the houses in one night.
Kelkulus
Scientists have now discovered the reason for post-holiday depression:
No more presents until your birthday.
Melanie White
I'm hoping for a magical Christmas this year.
I'm hoping all my relatives will magically disappear.
Melanie White
If you're not sure which presents Daddy wrapped, they're the ones that look like they were delivered by a backhoe.
Funny sayings for Christmas cards 3
I asked my grandmother for wireless headphones for Christmas…
and got some really nice ear muffs.
Thank goodness for all the after-Christmas sales.
It's hard to stop shopping cold turkey.
Melanie White
This Christmas, practice "defensive shopping."
Don't go to the mall after December 20th.
Melanie White
What's the best thing about being a kid at Christmas?
Not having to pay for all of your Christmas gifts.
Melanie White
One year our Christmas card photo features me, and the next year my wife, because somebody has to work the camera.
Just Bill ‏@WilliamAder
Have you ever noticed that making your thoughts count on Christmas… really adds up?
Melanie White
You know you've had a good Christmas…
when you spend more time unwrapping presents than untangling lights.
Melanie White
I miss the good old days when women thought mistletoe was fun…
and not sexual harassment.
Melanie White
Funny sayings for Christmas cards 4
If Christmas and Hanukkah merged, it would be called:
"Let's celebrate a baby Jew's birthday!"
"Maybe Christmas," he thought, "doesn't come from a store.
Maybe Christmas … perhaps … means a little bit more!"
Dr. Seuss
"All our best dreams and hopes rise up on this blessed Holy Day. May yours all come true!"
"As you become busy with the holiday festivities, take time to enjoy those things that are most important."
"Best wishes for a blessed Christmas and a happy and prosperous New Year."
"Christmas calories don't count!"
"Christmas is a Claus for celebration."
"Christmas is the season when you buy this year's gifts with next year's money."
"Don't try to borrow any money from elves; they're always a little short! Have a Merry Christmas!"
"Faith makes all things possible, hope makes all things work, love makes all things beautiful. . .May you have all three this Christmas!"
"God bless you at Christmas and always."
"Have yourself a merry little Christmas, let your heart be light."
"Here's to a healthy, happy and peaceful New Year."
"Hot chocolate, presents, candy canes, and family are the things that make Christmas such as special time. Merry Christmas!"
"I hope your holidays are enjoyable and relaxing."
"I'm glad to have people like you in my life to send Christmas cards. I am truly blessed this Christmas!"
"In warm appreciation of our association during the past year, we extend our very best wishes for a happy holiday season."
"Is it too late to be good?"
"It's all fun and games 'till Santa checks the Naughty List."
"It's the time of eggnog, candles, cakes, songs, reindeer, carols, laughter – and most importantly LOVE. Merry Christmas."
"Let the spirit of love gently fill our hearts and homes. In this loveliest of seasons may you find many reasons for happiness."
"Lots of Laughter"
Funny sayings for Christmas cards 5
"May God's blessings be yours this Christmas."
"May God's love surround you at Christmas time and always."
"May the closeness of friends and the comfort of home renew your spirits this Christmas."
"May the coming year bless you with life's every wealth."
"May the good times and treasures of the present become the golden memories of tomorrow."
"May the Holiday Season bring only happiness and joy to you and your loved ones."
"May you have the gift of faith, the blessing of hope and the peace of His love at Christmas and always."
"Peace on earth and best wishes throughout the New Year."
"Season's Greetings to those we hold dear, from our home to yours, whether far or near."
"The Magic of Christmas never ends and its greatest of gifts are family and friends."
"Warmest thoughts and best wishes for a joyful holiday season."
"Warmest thoughts and best wishes for a wonderful Christmas and a Happy New Year. May peace, love and prosperity follow you always."
"We want to take this opportunity to say Thank You for your Business and Merry Christmas."
"We're wishing you a Christmas filled with the warmth of family, friends, and fun."
"When you stop believing in Santa Claus is when you start getting clothes for Christmas!"
"Why are Dasher and Dancer always taking coffee breaks? Because they are Santa's star bucks."
"Wishing you a joyous Holiday Season and a happy and prosperous New Year."
"Wishing you a joyous holiday season and a New Year filled with Peace and Happiness."
"Wishing you a Merry Christmas and a Happy New year. Thank you for all of your support this year."
"Wishing you a Merry Christmas touched with wonder and filled with love."
"Wishing you all the Hope, Wonder, and Joy that the season can bring!"
"Wishing you and your loved ones peace, health, happiness and prosperity in the coming New Year."
"Wishing you and yours a wonderful holiday season and all the best in the coming year!"
"Wishing you peace, love and joy this Holiday Season."
Have a great time with Funny sayings for Christmas cards and don't forget to share it with others!
More: Funny Sayings